COUNTRY 104 FAN FRIDAY
Presented By

Congratulations to Fan Friday Winner – ALAN JOHNSON!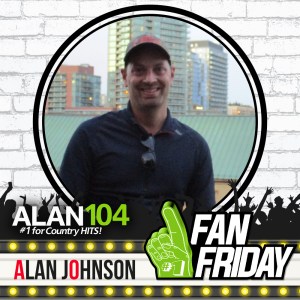 Our Country 104 Fan Friday winner Alan is walking away with a $50 New Orleans gift card, $250 CASH and bragging rights that he's a C104 SUPER FAN!
Today, Country 104 is ALAN 104! We're playing ALL of Alan's favourite songs all day long. Expect to hear lots of Canadian country artists – his favourite! We've got lots of Dean Brody, The Reklaws and Owen Barney coming up just for Alan.
You may think you know the Top 5 at 5 – but not like Alan does. He can tell you which artists have topped the charts the most – he's even got the excel spreadsheets to prove it. And, if there's a Moxie's patio party? You better believe Alan will be there!
AND – here's DEAN BRODY to thank Alan for being a Country 104 super fan!